2015 Past Projects
More of our past projects........ (2015)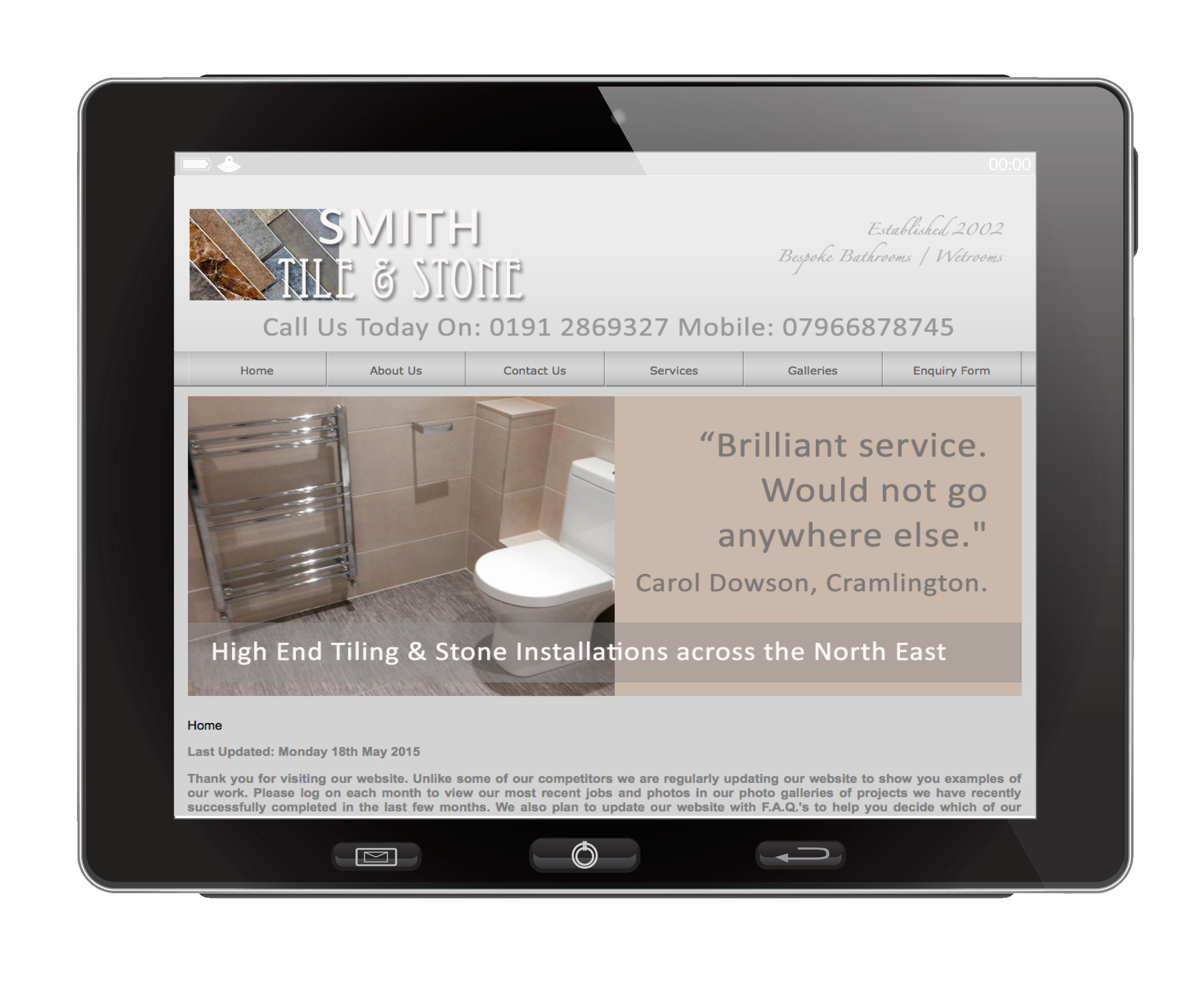 Update June 10th 2015: Need a Luxury Bathroom In The North East?
Kevin Smith of Smith Tile & Stone came to us a few months ago needing a good website company who could display all of his bathroom projects online. Kevin and his team fit luxury bathrooms and wetrooms across the North East. They email us every week with photos and details of successful installations. This website is typical of the many websites we manage for tradesmen (and women) who are now fully aware of potential customers checking out their most recent work online.
Smith Tile & Stone's website features:-
* Galleries of all their most recent work
* Enquiry Form to enable customers to request a call back / free no obligation quote / site survey
* Ongoing progress to work the website up the Google Rankings
If you are tradesperson with a camera full of photos you keep meaning to post online (but never seem to have time) contact us today...
...we can help!

Update June 8th 2015: Need a New Logo?
We've just been designing a new logo for Wearside Auto Parc this week. Wearside Auto Parc is the exciting new venture from the guys round at P & A Motor Vehicles (otherwise known as PANDA Motor Finance)

Over the years a big part of our remit as been to get our clients websites to the top of Google, which we did with Wearside Auto Parc. One of the ways we have achieved this (aside from our own StartASite software) is to generate really good quality text content. Not only does the text we generate need to be original but it needs to be relevant. And not only does it need to be relevant, it needs to be topical. So, what better text to add to a company in Sunderland selling cars than an interview with a top manager working at a car factory (Nissan) in Sunderland at the very time popular T.V. show 'Top Gear' was visiting the Nissan Sunderland plant. We managed to interview Nissan trim and chassis department head Ian Dodd after he appeared on the popular BBC 2 show with presenter James May. Below is a transcript of the interview we scooped which appeared on the Wearside Auto Parc website to boost it's SEO.
Hello Ian, thank you for giving us this interview.

I'll start by asking you a few questions to build up a picture of your time at Nissan.

How long have you been at Nissan?

I've been at Nissan 28 years. I started in the old Body shop, which is where the trim and chassis line 1 assembly plant is now. When the press shop was built I moved there and was there 27 years and now I have moved to a new challenge at trim and chassis 1 and I'm here for the forseeable future.

Is that since the days of the Bluebird?

Yes, since the days of the Bluebird. The first cars we made back in the 80's we got the bulk of the panels shipped in from Japan and built the car up in the UK. It was a steep but rewarding learning curve building those early cars.

What has been the biggest change you have seen in the time that you have been working at the car plant?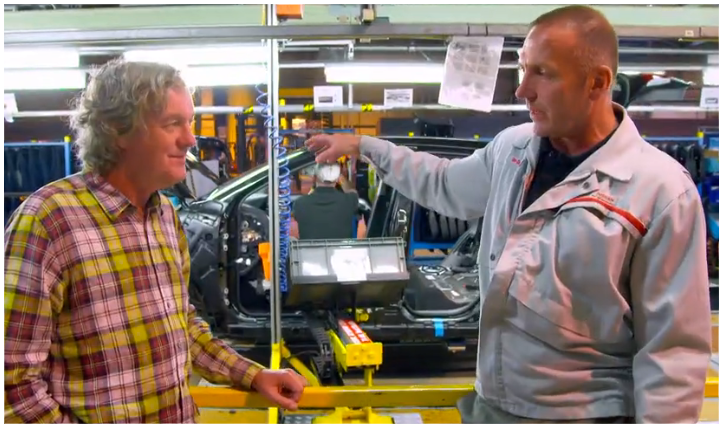 The biggest change has got to be the speed at which everything happens. The speed we build the cars at. We originally, back in the 80's, built cars very slowly, only a few cars every day. But now we have a new car come off the end of production line every 30 seconds.

And to help anyone reading this (and if you could) just give us a brief description of what you do on a day-to-day basis in your role there?

I am a Shift Manager (Senior Supervisor). So this means I have a team of people on my shift in trim and chassis 1 and I am responsible for all of the people,the quality, the safety - you name it. I'm responsible for everything that goes into this car. So every time there's a bit of downtime, every time there's an incident, every time there's a quality problem.....it's my job to make sure that my people react correctly and fix all the problems to build a good quality car. I have to make sure we hit our targets. I need the right amount of cars out the door at the right quality standard in the given time.

Moving on to the visit by the BBC team when did you first find out that you'd be featuring in this documentary?

It was filmed in the factory round about July time and I only found out about it a few days before they were coming, maybe about a week or so. I didn't have a lot of time to think about it. Obviously I didn't need time to prepare because I was just talking about my day-to-day role, what type of improvements we do, how we're so productive etc and he had to fit around our workload, they came into the factory and had to fit around everything we had to do, we couldn't have too much disruption to the production process but the team were fine with that.

As we know the TV documentary appeared on the TV this week and featured Top Gear's James May. How did you find Mr May? Was he how you expected?

What was James like ? James May is just a normal lad, very much down to earth he had good crack and was quite chatty, interested in what he was looking at and is quite knowledgeable. He has a broad knowledge of the car industry, different models and different manufacturers. He was a pleasure to have in the factory.

On the day did everything go to plan?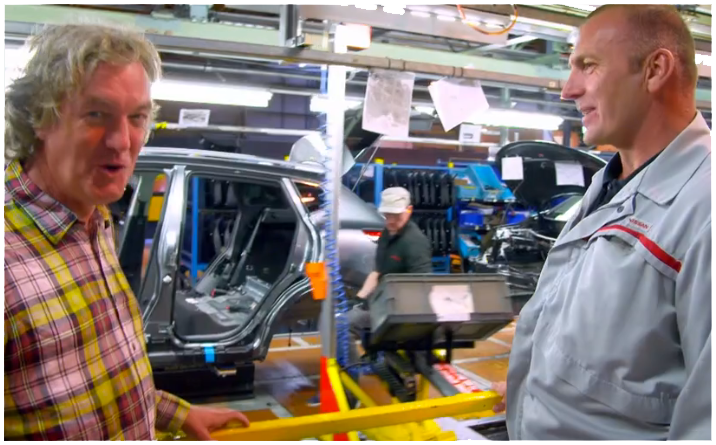 99.99% of the time everything here does go to plan. We are very skilled and experienced at building cars. Being the most productive car plant in Europe doesn't happen by accident. We are one of the most efficient plants because we can adapt and improve very quickly using an array of tools and techniques. Things do not go wrong very often so when we were in the plant we did not expect anything to go wrong and nothing did. Everything went smoothly as I expected it would. When things go wrong are we agile enough to fix the problem? .....Yes we are. If anything had gone wrong I wasn't worried about it because we have the skills and expertise. We've got the people to do it.

Were there any requests that the BBC made of Nissan that didn't quite materialise?

The film crew would have liked to get a lot closer to the production line, literally get in amongst the cars. For safety and quality reason this wasn't possible unfortunately. It's a shame because it would have showcased the very high skill of the workforce.

With the new Infiniti brand that is coming on stream soon, are there any sneak previews you can tell us about the new luxury car?

The new Infiniti car has been unveiled and the design of the car is in the public domain. The car is absolutely fantastic, and it is priced to sell, it really is fantastic. It's a premium brand and built at really top spec. We are one of the best car companies, best car factories in the world and that has leant itself to have a top quality car, beautiful car.. I'm desperate to have have one! The colours of the car, the specification of the car, the build quality, the materials, the design and the curb appeal - its absolutely fantastic.

If you didn't work there would you buy one !?

Without a doubt i'd buy one of these cars, yes. They ooze quality, the sound of the engine, the sound of the doors closing, you can feel the quality in everything you can touch and see....its a really top car.

When can we expect to see the Infiniti on the roads around Wearside?

It is launching at the turn of the year, get your orders in for Christmas.

And finally, when the documentary goes out on TV will you be nervous watching it?

I wasn't nervous about talking about my job, how we build cars, the tools we use, how we have become so efficient, how we build in the quality etc. All of these things I talk about day in day out. In this job you are meeting people all the time, you have visitors to the shop,
VIP's coming in and you have to show them round and showcase your skills. The only thing I was nervous about was hearing my own voice on TV.
Update May 5th 2015: It's not rocket science!
Call in to speak to us today about a website that's high up on Google, where you can bring in new customers who then pay you in advance via PayPal, just like the website we are developing for Rocket Airport Connections.
If you need a website with really good Google rankings, (we've got Rocket Airport Connections top or thereabouts for lots of key search terms) get in touch. Plus with Rocket we've just integrated PayPal to allow our client to take bookings in advance. It's starting to work really well for Gary over at Rocket with traffic to his website increasing month on month and more new bookings coming through. Plus we have just completed a video that acts as a tutorial to users landing on the website for the very own website. Thanks to 'J.T.' and Judith for their help completing that project. Rocket are Sunderland's only specialist airport connections company specialising in airport connections to the two North East airports and across the U.K.
Tuesday 3rd February 2015
Been working on a new logo for Terry at Fastfix Building Maintenance today to tie in with his new website. Came up with 16 ideas and will maybe develop one further then give him a ring to pop in and have a look. The initial images we produce as visuals are just low resolution until the client picks the final one the we use high resolution vector images that can be used in both print and web environments.